"Start with your mind," Mariah said when asked how she stays optimistic.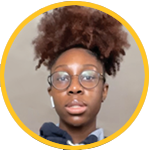 Ambitious, unflappable, and determined are three words that best describe 19-year old Mariah, who has been with Larkin Street for almost two years.
Mariah moved to San Francisco on her own from Georgia when she was 17 years old in hopes of finding better mental health resources and breaking  away from family members whose views on mental health only made her feel worse.
In late 2019, Mariah moved into one of our emergency shelters, and after a five-month stay, she moved into one of our transitional living programs,  where she quarantined during the pandemic. Even though the pandemic restrictions brought challenges, Mariah chose to focus on seeking  opportunities. She took advantage of services within our housing program, such as self-help groups, financial management, art workshops, and  Youth Force.
"I have this vision of where I want to be and I'm working towards it. I don't ever let failure put me down," Mariah said. "Sometimes, it's easy to feel  stuck, and when that happens, you just need to restart your mindset."
Through self-help groups, she learned to take care of her physical and mental health with yoga and art. Through Youth Force, she's learning how to brand and promote her art.
Even though she still prioritizes her mental health, Mariah stopped therapy once she realized that she was in a much better mindset to pursue her dreams. During the pandemic, she finished a web design internship at Matter of Trust, where she ended up being hired full-time. Today, she's working from home helping web designers with projects while also planning her next move once the pandemic restrictions are lifted. She hopes to go to college and major in computer science.
"I have this vision of where I want to be, and I'm working towards it. I don't ever let failure put me down," Mariah said. "Sometimes, it's easy to feel stuck, and when that happens, you just need to restart your mindset."